Sing-along Pianist – London, Essex, Birmingham, West Midlands, Hampshire, Yorkshire, and other areas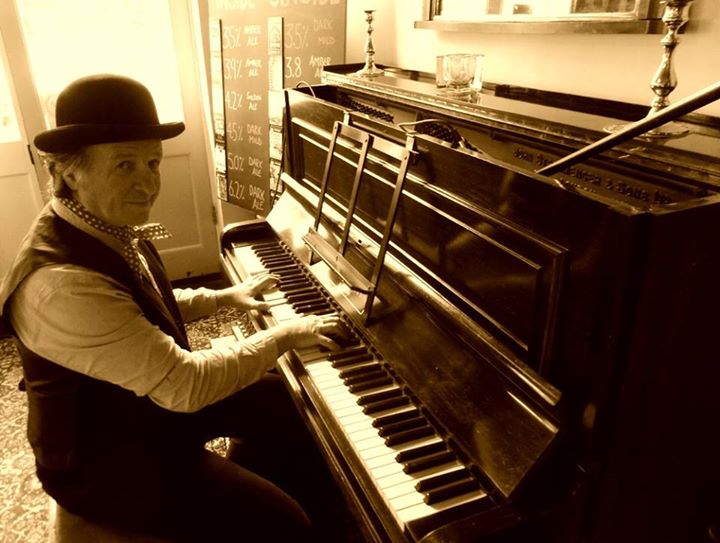 Cockney Sing-along Pianist – Good Old Fashioned Pub Entertainment
The Way it Used to Be!
I can be hired as a Cockney sing-along pianist in London, Essex, Birmingham, West Midlands, Hampshire, Yorkshire, and other areas of the UK. I provide good old-fashioned pub entertainment, the way it used to be. Furthermore, I provide entertainment for all types of events including parties, Cockney nights, Peaky Blinders evenings, and many others. I supply all the song sheets so that all you have to do is provide me with some good hearty voices. Make your party smile! 🙂
My work as a musician has changed dramatically over the years. As well as being hired in my usual role as a jazz/cocktail pianist, I am now being hired for many sing-along Cockney knees-ups. This latest trend is something quite new for me and I am finding it to be a very enjoyable experience.
A London pub was the first to hire me as a sing-along pianist and it was really good fun and a very memorable experience. Since then, my repertoire has grown I now promote myself for all types of Cockney, London, and wartime-themed events. In fact, I now play the piano for these events in Birmingham, West Midlands, Essex, Hampshire, Yorkshire, London, and the UK.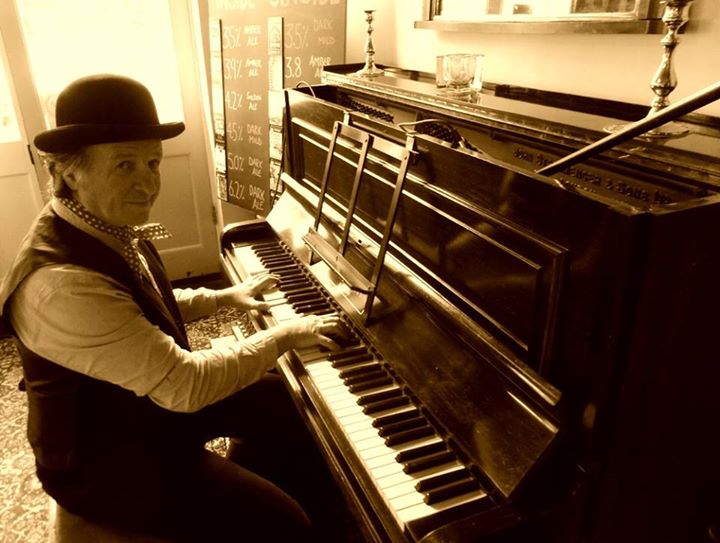 Song Sheets and Events
I have various different song sheets for different occasions. In fact, I play for Cockney theme evenings, Country and Western parties, wartime-themed events, and VE Day celebrations. Singalongs have become so popular that they have been incorporated into many different types of events. For example, birthday parties, Christmas parties, Burn's Night, Masonic dinners, and even Weddings.
Pub Pianists in the Past
There was a day when nearly every pub had a piano (or 'Joanna') in it and everyone would get around it and sing all the old Cockney favourites. London pub pianists were renowned throughout the country as their reputation spread.
In fact, the East End was considered the Mecca for this style of entertainment. London seemed to have more pubs with pianists per square mile than the rest of the country. However, the rest of the country also had its fair share of pubs where you could have a good old sing-song. For instance, Birmingham, and West Midlands had many pubs with pianists, so did Essex and Hampshire. Even northern areas such as Yorkshire, Lancashire, and Manchester had pubs with piano players who churned out all the old tunes.
Also, at one time sing-a-long pianists could be heard on the radio, and entertainers such as Mrs. Mills and Russ Conway were very successful in their day. Many people had a piano in their homes and before TV everyone used to sing and play musical instruments. Yes, they used to make their own entertainment then, as you've probably heard many times.
Modern Trends – X Factor and Karaoke
Today's activities seem to mainly involve playing with computers, game consoles, and watching the telly. Popular shows including X-Factor and The Voice are encouraging us to get out there and sing. Just look at how many people are watching X Factor, making Karaoke even more popular. This is especially true in the north of England. The only problem with Karaokes is that the only person singing is the one on the microphone. Further to this, he or she is usually the only one enjoying it.
An old-fashioned sing-song, allows everyone to sing at the same time. Also, there is nothing like that sound of a honky-tonk pianist churning out those old songs. Whatever the event, whether it's for Christmas or someone's birthday, people like to have a sing-song with a pianist.
Please visit my BLOG to find out the latest news