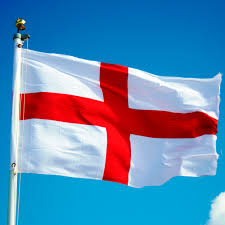 England's national day remembers St George as our patron saint and is celebrated on 23rd April. He was a Christian martyr who famously slayed a dragon to save a princess while he was in the Roman army. He wasn't English, but for some reason he still represents traditional English chivalry and bravery. His emblem is a red cross on a white background and this is England's national flag.
St George's day has grown in popularity and seems to be a good excuse to have a party. I am often booked a year in advance for this special day and I am also booked to celebrate St George on other dates around this time. These celebrations ususlly consist of singing a mixture of Cockney, wartime, patriotic and songs from English musicals. Below is a list of popular favourites that are often sung on any St George's celebration:
Cockney Songs
The Lambeth Walk
Down at the Old Bull and Bush
Daisy
Let's All Go Down the Strand
Maybe it's Because I'm a Londoner
On Mother Kelly's Doorstep
Underneath the Arches
Don't Dilly Dally on the Way
Roll Out the Barrel
Any Old Iron
Knees Up Mother Brown
I've Got a Lovely Bunch of Coconuts
My Old Man's a Dustman
Oh! I Do Like to Be Beside the Seaside
Tulips from Amsterdam
How Much is that Doggie in the Window
Daddy Wouldn't Buy Me a Bow-Wow
Heart of My Heart
For Me and My Gal
Side by Side
Show Me the Way to go Home
Songs From English Musicals
I Could Have Danced All Night
Wouldn't It Be Loverly
Get Me to the Church on Time
Consider Yourself
Super-cali-fragilistic-expiali-docious
I'd Do Anything
Oom Pah Pah
Patriotic Songs
I Vow To Thee My Country
Rule Britannia
Jerusalem
There'll Always Be an England
Land Of Hope and Glory
Wartime Songs
Run Rabbit Run
Goodby-ee
Now is the hour
It's a Long Way to Tipperary
Pack up Your Troubles in Your Old Kit Bag
Sally
Lili Marlene
Let Me Call You Sweetheart
The White Cliffs of Dover
We'll Meet Again
I have all the above songs organised and printed on song sheets – so that all you have to do is provide some confident singers.