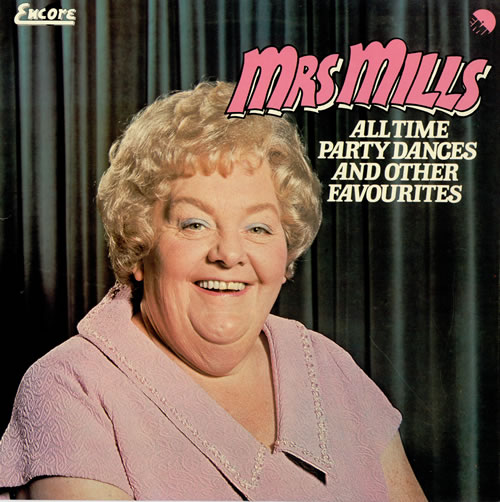 To most people, Mrs. Mills or Gladys Mills was the yardstick by which all singalong pianists were measured (and still are!). Gladys was born on 29th August 1918 in Beckton in London's East End. Her Maiden name was Gladys Jordan before marrying Burt Mills and moving to Loughton in Essex. Gladys lived most of her life at 43 Barncroft Close, Loughton, and after her death in 1978 Loughton Town Council commissioned a blue plaque to be placed on the house.
Before Gladys Mills made it big she was the superintendent of a typing pool, but she was a pianist in her spare time with a band who played in many venues throughout Essex. She was discovered at Woodford Golf Club by a talent scout and from then on her career soared. She made her first TV appearance on the Billy Cotton Show in 1961 and by 1962 she had made it big and was a household name.
She was recording for Parlophone at Abbey Road Studios at the same time as the Beatles. Her first hit record was the "Mrs Mills Medley" which entered the Top Twenty UK Singles Chart. From then on she made many appearances on radio and TV, and she released over 40 albums making her one of the biggest recording artists of her time.
Gladys Mills had a wonderful disposition and was as well known for her personality as her accomplished piano playing. Her style of playing was based on honky-tonk and stride piano. As a pianist, she had great technical ability, but unfortunately, she is not often given credit for this.